Social Media Management Agency
Akeans is a social media management agency that specializes in providing comprehensive social media solutions for businesses and individuals. With a team of skilled social media experts, We offer services such as social media strategy development, content creation, community management, paid advertising, and performance tracking. We strive to help clients establish a strong online presence, build brand awareness, engage with their target audience, and drive measurable results through effective social media management strategies.
Why Choose Akeans for Social Media Management Services?
Konik Technical Recruiter is a premier technical recruiting firm that specializes in staffing for the manufacturing and engineering industries. The company has been in business for over 25 years and has established a reputation for providing high-quality staffing solutions to its clients. The company approached Akeans, a top-rated WordPress design and development agency, to help redesign their website and improve their online presence. 
Expertise
Akeans has a team of skilled social media managers with years of experience in creating and implementing effective social media strategies across various platforms.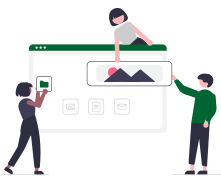 Customization
Akeans understands that each business is unique, and therefore offers tailored social media management plans that align with your specific goals and target audience.
Results-driven
Akeans focuses on delivering measurable results, such as increased engagement, website traffic, and conversions, to help your business achieve its social media marketing objectives.
ROI-driven
We provide high-quality content creation services, including engaging graphics, captivating captions, and relevant hashtags, to ensure your social media posts are visually appealing and engaging to your audience.
Analytics and Reporting
We use data-driven insights and analytics to monitor the performance of your social media campaigns and provide detailed reports, allowing you to track your progress and make informed decisions.
Excellent Customer Service
We pride itself on its responsive and attentive customer service, ensuring that your questions, concerns, and feedback are addressed promptly and professionally throughout your engagement with them.
Our Social media marketing management services
Social media agency services
Akeans is a social media agency that provides a range of services to help businesses grow their online presence. With expertise in social media management, content creation, and digital marketing, We offer comprehensive solutions tailored to each client's unique needs. Our services include social media strategy development, content planning and creation, community management, social media advertising, and analytics and reporting. We aim to drive engagement, increase brand awareness, and generate results for businesses across various industries through effective social media marketing strategies.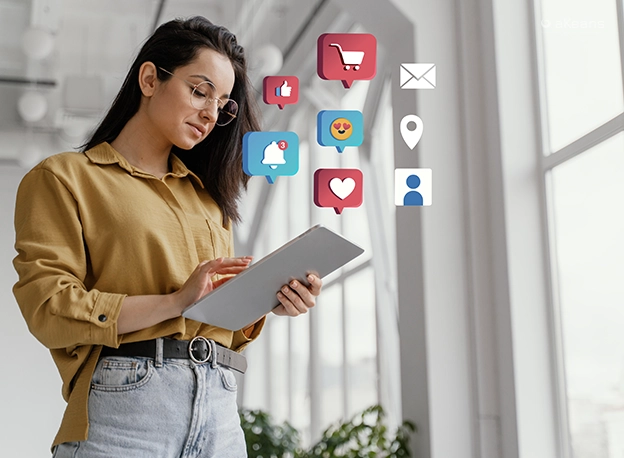 Social media advertising services
We offer social media advertising services that help businesses boost their online presence and reach their target audience effectively. With a team of skilled marketers and a data-driven approach, We create and manage strategic social media campaigns on popular platforms such as Facebook, Instagram, Twitter, and LinkedIn. Our services include campaign planning, ad creation, targeting, monitoring, and reporting, all aimed at maximizing ROI and driving business results. We deliver tailored solutions that align with the unique goals and requirements of each client, helping them achieve success in the competitive world of social media advertising.
Instagram management services
We offer Instagram management services to individuals and businesses looking to optimize their Instagram presence. With expertise in social media marketing, we provide a range of services including content creation, scheduling, engagement, and analytics. Our team helps clients grow their Instagram following, increase engagement, and achieve their marketing goals. Whether it's managing Instagram accounts for influencers, small businesses, or larger brands, We aim to provide tailored strategies and effective management to enhance Instagram performance.
We offer professional LinkedIn ads management services to businesses seeking to maximize their online advertising efforts. With a team of experienced digital marketers, We provide strategic planning, campaign setup, targeting, ad creation, and ongoing optimization to drive optimal results on LinkedIn. We use a data-driven approach to optimize campaigns for maximum ROI, leveraging the power of LinkedIn's professional audience to help businesses achieve their marketing goals. Trust Akeans to deliver effective LinkedIn ads management services that can elevate your online advertising game.
SEO and social media marketing services
We offer comprehensive SEO and social media marketing services to businesses of all sizes. With a team of experienced professionals, We help optimize websites to improve their search engine rankings, increase organic traffic, and boost online visibility. We also create and implement effective social media marketing strategies to drive engagement, increase brand awareness, and grow online communities. We take a data-driven approach to deliver measurable results and help businesses achieve their digital marketing goals.
Akeans team have been great collaborators on our website. They are accountable, and very thoughtful in their proposed solutions to our website issues. Highly recommended!
Jordan Wills
BTX Technologies
Akeans team is the best. Highly recommend them for any Magento, WordPress and Shopify projects!
Deep Garcha
Perfect Creations
Akeans team performed far and above what we dared to hope for. We had a complex site build that was already live, and their team jumped in on a Sunday to start helping us stabilize the site and make critical improvements.
Andre Savoie
High Level Thinkers
Work was conducted efficiently and fast. Problems resolved quickly without fuss. Good communication and professional!!!
Andrew Seymour
Fundeo
Akeans team is extremely professional, highly skilled and very patient - they attended to every request we need from the start to the end - would recommend these guys to any one looking for serious magento developers who will do the job done with flying colors.
Ian Htat
iTat-international



Want to reach more customers through social media?