PHP web development company
Akeans is a PHP web development company that specializes in creating dynamic and robust web applications using PHP, one of the most popular server-side scripting languages. With a team of highly skilled PHP developers, We deliver custom web solutions that are tailored to the unique requirements of clients across various industries. From e-commerce websites and content management systems to CRM applications and web portals, We leverages the power of PHP to build scalable, secure, and high-performance web applications. With a focus on quality, innovation, and customer satisfaction, We is committed to providing top-notch PHP web development services that help businesses thrive in the digital world.
PHP web development services
We offer PHP web development services to create dynamic and interactive websites. Our expert team of PHP developers leverages their extensive experience to develop custom web applications that meet the unique needs of clients. From e-commerce websites to content management systems (CMS), Akeans provides end-to-end PHP development solutions, including PHP web design, development, testing, and maintenance. We ensure high-quality code, robust functionality, and seamless performance, delivering cutting-edge PHP web solutions to clients across various industries.
Full stack development services
We offer comprehensive full-stack development services to clients, providing end-to-end solutions for web and mobile applications. With a team of experienced developers proficient in both front-end and back-end technologies, We deliver high-quality, scalable, and custom-built solutions tailored to meet the unique requirements of each project. From conceptualization and design to development, testing, and deployment, We ensure a seamless development process that aligns with the latest industry standards and best practices. With a customer-centric approach, We aim to deliver exceptional results and exceed client expectations.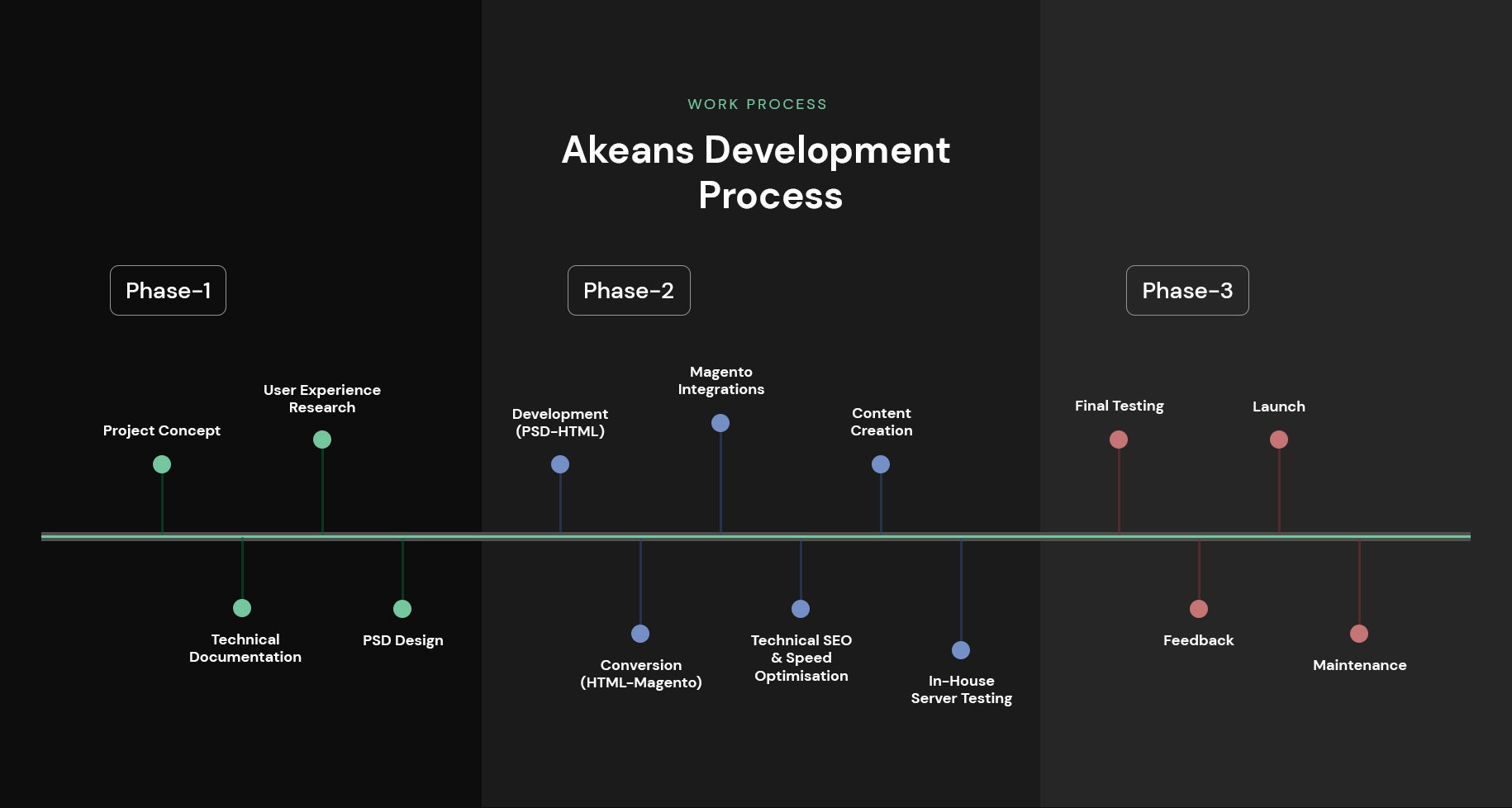 Akeans team have been great collaborators on our website. They are accountable, and very thoughtful in their proposed solutions to our website issues. Highly recommended!
Jordan Wills
BTX Technologies
Akeans team is the best. Highly recommend them for any Magento, WordPress and Shopify projects!
Deep Garcha
Perfect Creations
Akeans team performed far and above what we dared to hope for. We had a complex site build that was already live, and their team jumped in on a Sunday to start helping us stabilize the site and make critical improvements.
Andre Savoie
High Level Thinkers
Work was conducted efficiently and fast. Problems resolved quickly without fuss. Good communication and professional!!!
Andrew Seymour
Fundeo
Akeans team is extremely professional, highly skilled and very patient - they attended to every request we need from the start to the end - would recommend these guys to any one looking for serious magento developers who will do the job done with flying colors.
Ian Htat
iTat-international




We offer end-to-end PHP development services – let us help you from idea to launch.